Finally, summer is here and what better way to spend it then going on a day trip with the family and your beloved pet dog. For many of us, we chose to escape to the countryside for a long gruelling walk, or we head off to the nearest beach to feel the sand between our toes. If you're lucky enough to live in the countryside or near a beach, then you won't have to endure a long, hot car drive, for the vast majority of us we have no other option but to travel. For some pet owners the car trip is no fun, especially if your furry friend suffers with motion sickness or they struggle to keep still and become bored easily. Regardless of the dog breed, majority of dogs are not particularly fond of long car journeys. To help make your car journey more bearable, Mypetzilla have enlisted some very helpful dog travel tips which should help keep your dog happy and calm and your trip relatively easy.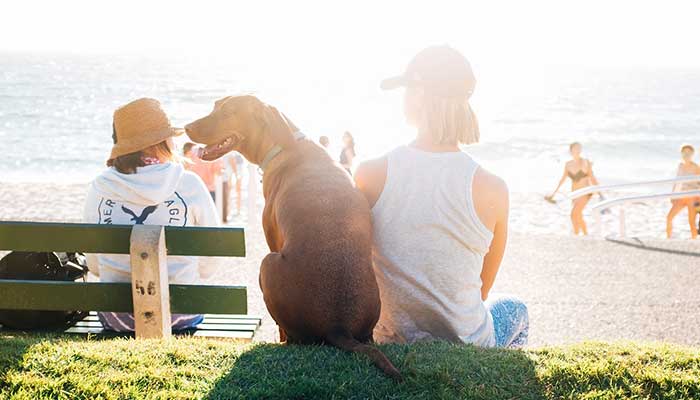 Dog Travel Tips When Travelling With Your Dog in a Car
Place your dog in a ventilated crate or carrier. This will help keep your dog safe and secure. You should aim to use a carrier that has soft sides and is well padded
Feed your dog with a light meal 3 to 4 hours before departure. Even if your dog is a large dog breed, you should aim to still feed them lightly so they're not extremely full before travelling. Do not be tempted to feed your dog during the journey as the motion and the combination of food can cause an upset stomach
Take a water bottle and drinking bowl. Depending on the length of your journey, you should allow for plenty of refreshment breaks. Providing water will help keep your pooch hydrated and prevent them from feeling unwell
Take a pet travel kit. This should consist of their favourite toy, feeding bowl, blanket, treats and any form of medication they may be taking at that present time
Make sure your pet's microchip is up-to-date with your personal details. Should the worst case scenario happen you need to ensure your details are correct to help your prevent any potential issues should they become lost
If you're travelling around Europe you will need to ensure that your pet dog has an official passport and their vaccinations are up-to-date. To be on the safe side you should take all of their vaccination documents with you on your travels
Do not allow your dog to hang out of the window whilst the car is moving. This point is purely common sense, as; allowing your dog to hang out of the window poses a few dangerous risks. They could be injured by a moving car or, if they're not secured in correctly, they may fall out of the window
Never leave your dog in the car alone. This should never, ever happen! Your dog can die very quickly if they're left in a hot car (even with the window down) they can also freeze to death if left in a cold car
If you're planning a long car trip and your pet dog is not accustomed to long car journeys, it is worth taking them out on short journeys to get them used to the idea of travelling in a car
Give them their favourite toy to keep them entertained whilst ravelling
Bringing your dog on vaccination with you can be a lot of fun for you both, It is important that you're fully prepared for the journey and arriving at your destination. Its worth while researching your destination to check that their dog friendly and the nearest veterinary practise (just in case) To help your dog feel relaxed during the journey you could rub a little lavender oil between your hands and gently pat a little on your dog, which will help them relax.
Tags
Dog Advice
Dog Travel Tips