Summer has finally arrived, and for many dog owners, that means enjoyment of the long hot days and plenty of fun outside. However, for all dog owners, the hotter weather does come with some risks for your four-legged friends.
Normal activities, such as walking, hiking, playing fetch and other summer fun things, can potentially present hazards to your dogs health if they're not properly cared for.
Strenuous activities such as this can result in your dog overheating and causing heat exhaustion and/or stroke. There are some dog breeds such as the Bulldog and Pug that are at an even higher risk. These are known as brachycephalic breeds, which are dog breeds that are flat-faced. This also includes long hair dog breeds and dog breeds with short noses.
What causes Heat Stroke?
Heat stroke and heat exhaustion have the same effect on dogs as they do on humans. Heat stroke is a condition that can quickly develop when there is failure within the dogs body in helping them regulate their body temperature; when exposed to really hot temperatures.
Unfortunately, dogs are at high risk of heat stroke and/or heat exhaustion, primarily because of how their body works in regulation of their body temperatures. Unlike humans, dogs are unable to perspire as they cool down and instead, they pant excessively. Panting does help the dog cool down but it is not as effective as perspiration. As well as this, dogs, also have fur, which can also cause them to become hotter, quicker. Unfortunately, dogs are unable to cool themselves down like humans can.
Preventing Heat Stroke
As a responsible dog owner, you must ensure that you take extra care during the warmer months. Appropriate resources must be provided to ensure your dog is kept cool, safe, and happy. There are several preventable measures you can take, to help prevent your dog from suffering with heat stroke and/or heat exhaustion. These are as follows:
Provide enough cold, clean water on a daily basis. Refill the water bowl several times a day to ensure the bowl is constantly full and the water is refreshing. You must also ensure they have easy access to the water bowl as well. 
Ensure that you provide enough shade if you're both spending time outdoors in the sunshine. You can place their bed, toys and water bowl in a shaded area or under a tree to encourage them to relax there. 
Avoid taking your dog out during the hotter time of the day, this is normally between midday and three o'clock. It's best to walk them early in the morning or late in the evening. 
Provide your dog with a small child's pool to relax in during the summer. Some dog breeds love water and would enjoy relaxing or splashing around to help them keep cool. This can also be fun for you both to play and chill out in.
Never leave your dog unattended in the car, even for a short period of time and, if there is shade. The temperature in the car can soar to higher a degree than outside and can cause damage to your dogs health and in some cases, it can be fatal. Simply avoid taking your dog out in the car during the hotter months, to prevent them from becoming unwell.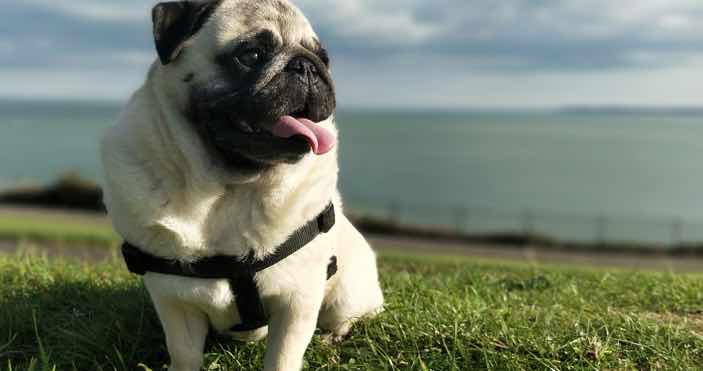 Dog Breeds Prone To Heat Stroke

Bulldogs are also prone to suffering with heat exhaustion because of how their breathing is regulated. The Bulldog has a shorter airway, which inhibits them from cooling down quickly. They also have a flattened face which means they're also subject to suffering with heat stroke.
Recognise The Signs of Heat Exhaustion
Recognising the early warning signs and symptoms of heat exhaustion can help save your dogs life. Listed below are a few warning signs that every owner should be aware of:
Pale Gums
Wobbly
Excessive panting
Muscle tremors
Drooling and thick saliva
Increased heart rate
Unconsciousness
Vomiting
Seizures
Increased body temperature
Shock
Treatment Methods for Dogs Suffering With Heat Exhaustion
Recognising the signs early can help prevent your dog from becoming unwell and possibly leading to heat exhaustion. The first immediate action would be to remove your dog from the heat and cooling them down immediately. There are other preventative actions you can take and these are as follows:
Wet their head with a cold towel
Encourage your dog to drink some water but do not force them
Monitor their temperature 
Provide them with rehydration fluids 
Cool them off in a bath or shower (but not cold water)
Tags
Dog Breeds
Heat Stroke